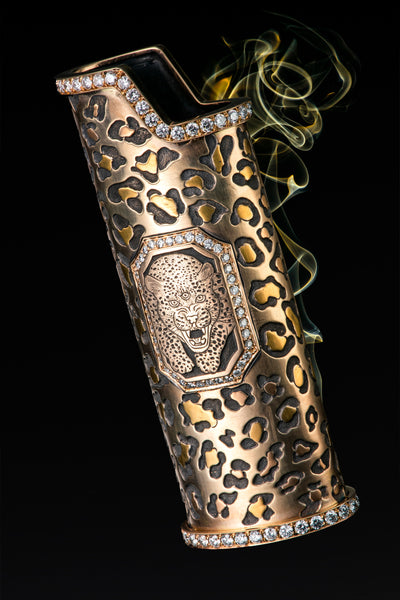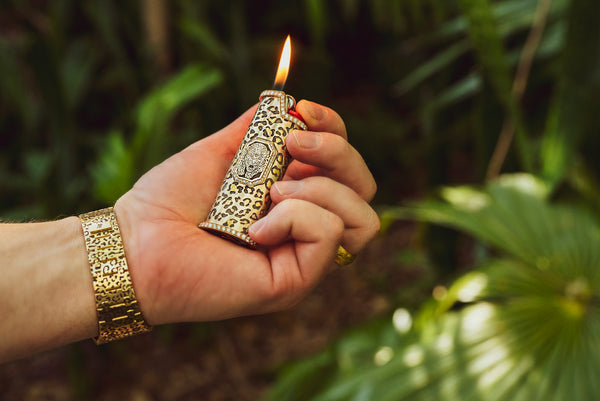 This lighter case is part of DeWitt Ray's Wild Coat collection: The name 
Wild
Coat
 draws inspiration from the habits and appearance of the leopard itself. Leopards are one of the few large cats in the world who can adapt to drastic environments. Commonly known for their strength and stealth hunting abilities, they also can live anywhere from the barren steppe land to the wettest and most lush rainforests and jungles in the world. Buddy (
DeWitt Ray) was drawn to the strength and adaptability of the leopard and believes anyone wearing this set will embody those same virtue.
"Everyone said we couldn't inlay Rose Gold. Because the alloy is too hard. That's why we made our own custom 22k rose gold alloy to inlay into 18k yellow gold in order to make this lighter case. The black is created in house through basically a science class style set up to do black rhodium plating." -Buddy
No need to hold back when wearing Wild Coat, all bets are off, just let it ALL out.
14k Yellow Gold
22k Rose Gold
24k Yellow Gold
40 1.7 mm VS diamonds
70 2.3 mm VS diamonds
Total Weight 60.3 grams
Appraisal Value $28,750
**This is made to order*** Please allow 6-8 weeks for me to make this for you or your loved one. I will reach out to you once the order is made to talk further about the project.
Shipping: Purchases over $1000 will ship domestically at no cost, insured, and requires signature confirmation upon arrival.