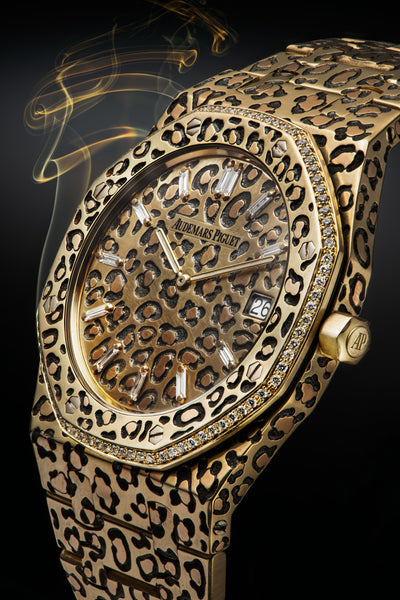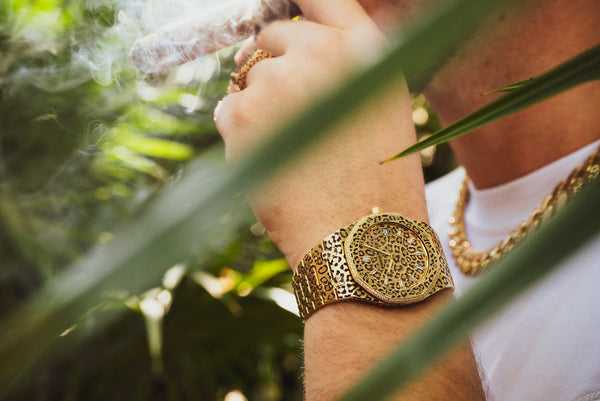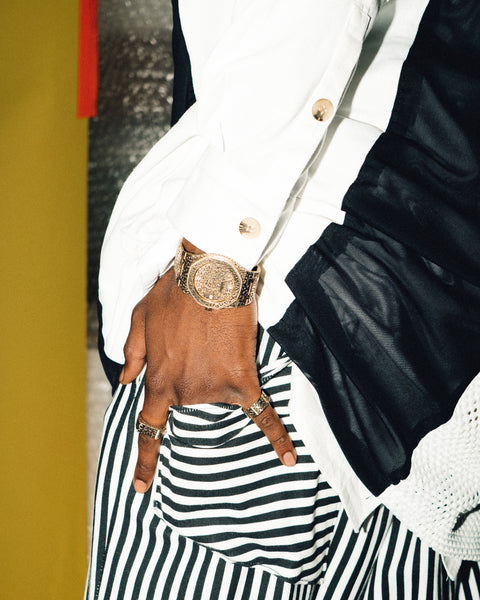 This watch is part of DeWitt Ray's Wild Coat collection: The name Wild Coat draws inspiration from the habits and appearance of the leopard itself. Leopards are one of the few large cats in the world who can adapt to drastic environments. Commonly known for their strength and stealth hunting abilities, they also can live anywhere from the barren steppe land to the wettest and most lush rainforests and jungles in the world. Buddy (DeWitt Ray) was drawn to the strength and adaptability of the leopard and believes anyone wearing this set will embody those same virtues. 
The flagship of the collection, a one-of-a-kind 18k yellow gold Royal Oak Audemars Piguet watch, which took 150 hours of engraving. This adorns a highly intricate 22k rose gold inlay patterned band, case, and bezel. A custom fabricated dial with 12 straight baguette cut diamond hour markers, as well as 88 round brilliant diamonds set on the beveled edge of the bezel completes the project. DeWitt Rays's founder, Buddy Austin, found inspiration in studying leopards anatomy and habits for the custom Audemars timepiece. After falling in love with the patterns and processes involved in creating these visuals in fine metal, Buddy pushed to create an entire matching leopard print jewelry collection.
"Everyone said we couldn't inlay Rose Gold. Because the alloy is too hard. That's why we made our own custom 22k rose gold alloy to inlay into 18k yellow gold in order to make this watch. The black is created in house through basically a science class style set up to do black rhodium plating." -Buddy
No need to hold back when wearing Wild Coat, all bets are off, just let it ALL out.
18k yellow gold
22k Rose Gold
Audemars Piguet Royal Oak, automatic movement, calibre 2121, 39mm diameter case, custom fabricated dial, luminescent hands, subsidiary date dial, sapphire crystal front and back.  
**Serial Number and Reference Number on Request**
12 3.0 x 1.4 mm Baguette VVS2 diamond hour markers 
88 1.0 mm round brilliant diamonds bead set into bezel.  
163 gram total weight
Appraisal Value $88,500
**This is made to order*** Please allow 6-8 weeks for me to make this for you or your loved one. I will reach out to you once the order is made to talk further about the project.
Shipping: Purchases over $1000 will ship domestically at no cost, insured, and requires signature confirmation upon arrival.