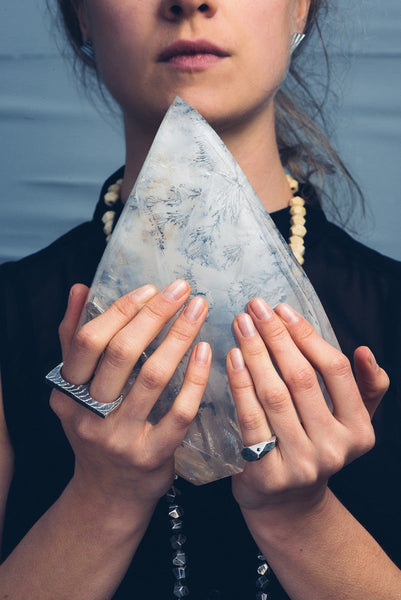 Created from the ancient technique of cuttlebone casting, the Lamina Double Ring demands mindfulness and respect for the environment and all life on earth.
Handmade with Sterling Silver
The blackened sterling on the ring (low parts in the design) is made with Sterling Sliver process though patination. Simple chemistry is used to speed up the oxidation process of the silver and turns it black. Then the high spots on the silver are polished to give the design more dimension. The black color is not permanent. It can be polished or eventually the object will adapt to the wearer and the black will transform into shiny silver on the high spots.
Associative Virtue: Reverance
*Sizing* Choose the size of your double ring based on the larger of the two fingers you will be wearing the ring on. (Designs may vary slightly as a different mold was created for each size)
Ready To Ship!

Each Design can be made to Order in Platinum as well as 14k or 18k Yellow or Rose Gold. E-Mail us for a Quote.
TEA Sustainability Report: Over 7 years worth of accumulated Sterling Silver wire scraps were recycled to make up roughly 50% of the Silver used in the Lattice Series.