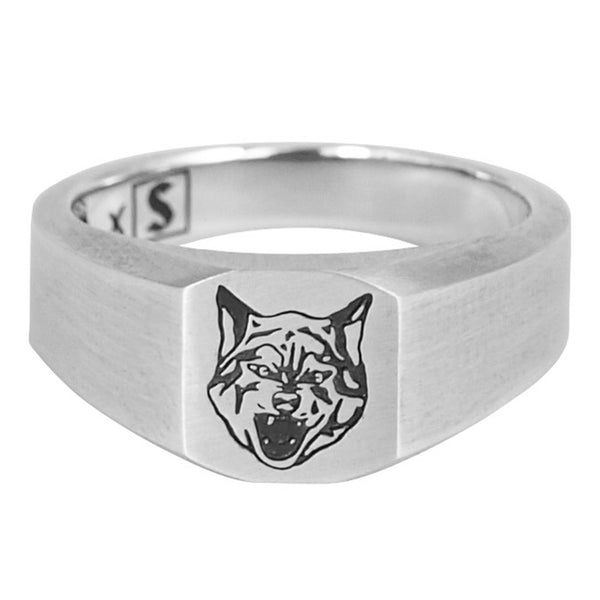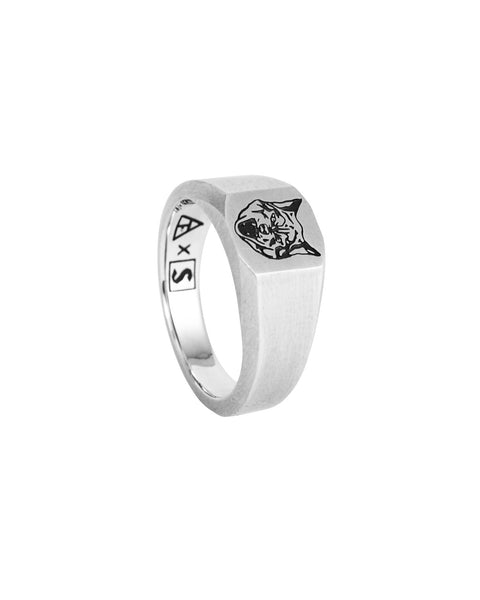 Inhabitants of the Northwest:  Samborghini and Buddy Austin teamed up to create a series of Signet rings and a matching tie-dye t-Shirt.   The wolf, rattlesnake, eagle, and cougar are among the Northwest's most respected and awed animals.  They each represent various habits and virtues.  The wolf is a pack animal and represents loyalty.  The rattlesnake sheds its skin over and over symbolizing immortality and creativity.   The bald eagle overcoming threats of extinction represents resilience and peace.  The cougar silently roams vast distances representing stealth protection.
A portion of the proceeds will be donated to Conservation Northwest, whos mission is to 'Keep the Northwest wild' by protecting, connecting and restoring wildlife and wildlands in Washington and British Colombia.  
Ring: made in Sterling Silver with hand engraved Rattlesnake and collaborative hallmarks.  
SIZE 9: But can be Resized.  Just email us with your size and order number after you place online order.  sales@thirdeyeassembly.com 

Wolf:  The Gray Wolf aka Canis Lupis was completely lost in the early 1900's.  People were more dumb than they are now about the importance of predatory animal populations.  Thankfully their numbers are now on the rise.  The biggest conflict is between the wolves and livestock.  While there may never be no conflict in that arena, locals in the areas affected are doing there best to minimize the conflict protecting the lives of predator and prey.  Conservation Northwest is one of the leading organizations in this effort.  Sam and I wanted to pay homage to the wolf with this Signet Ring because it is one of the most rare animals to see in the NW and we are hoping to shed some light on the cause to bring back the populations.
*Inhabitants Tie Die t-shirts are available at samborghini.com

More about Conservation Northwest:
They work on-the-ground across Washington to restore forests, shrub-steppe and grasslands to increase wildfire resilience, including through forest collaboratives and our Forest Field Program. They've also represented the Washington Prescribed Fire Council to help restore natural low-intensity fire cycles to dry forests across the state, and work in Olympia and Washington, D.C. to improve fire and forest policy at the state and national level.